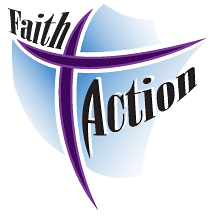 Faith and Action was organized to provide a venue for people to serve, share their faith, and bless those in need. Our ministries vision is not only to meet people's physical needs but also to meet their spiritual needs by sharing the gospel of Jesus Christ.

Our volunteers are ordinary people that come together with a shared purpose of demonstrating God's love in practical ways. We do this by offering special events such as working in the urban garden, game nights, fishing outings, music programs, visits to local businesses, etc.

Check out our website link below for more information. Make sure to visit our event page to see how you might get involved. Most of our events are kid-friendly so we encourage the whole family to get involved!

[
back
]